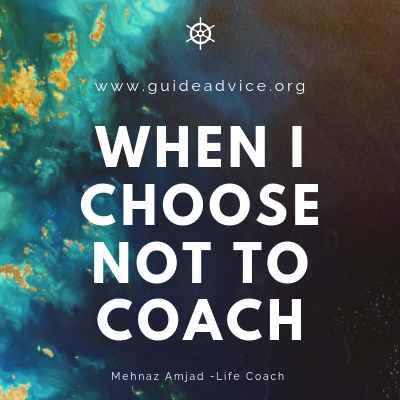 Hello Everyone ,
Welcome to another episode of Coach stories from the Coaching world"
In today's episode ,the story I would like to share with you is about When I Choose not to Coach
You must be wondering what with not coaching people ,after all it takes lot of effort before we get genuine sincere clients committed to Coaching .
As a Coach ,I have my share of struggles ,and on the top list is working on marketing campaigns to gain access to clients who would sign up for my program , and despite the hard work that goes into it ,I often come across special cases ,which initially left me very confused ,but with time I have come to learn how to deal with it 
After lot of thought process ,I finally decided to choose not to coach such cases 
If you are asking me why ?
It is because , clients who lack commitment cannot reap any results from Coaching ,regardless of expensive scientific tools or assessments one may use .
Commitment is key in Coaching
A change with commitment to change , is precisely where transformation takes place ,first with oneself and then with the co creative relationship we hold in coaching 
The case goes like this :
I had a prospective client ,who was in his early 50's ,intelligent yet very skeptical about the whole world ,and even i invested 7 goods hours trying to find a break through from the discovery calls , all that I could discover was ,He lacked commitment to transform and no wonder ,nothing worked after that.
Let me also mention these 7 hours were spread over 2 weeks 
The assessments ,tools ,questions,Socratic method,coaching frameworks all fell flat when the client refuse to accept feedback ,of the outcomes he encountered ,instead he felt,  he was entitled to perfection and was the only one who knew it all !
As a result - the agreement and coaching sessions both had to be closed ,but in a very tactful manner.
As a Coach the Lesson I learned - we cannot coach ,those who know it all.
So next time if you want to get yourself coached or are coaching someone ,always begin with a commitment and ensure it is from both the sides .
In absence of it , you might just end up like me ,with futile efforts ,lessons learned ,choosing not to coach such cases again.
That's all for today , thank you for being my audience and taking the  time to listen to my podcast series .
Look forward to connect with you again ,in another episode till then have a great time ahead.
In case you are interested  in any of my coaching programs ,check the link shared in the notes column
Check the link for our coaching programs 
Talk to you soon.
Thanks.